Come along to admire the high-up lifestyle of the unique hot-spring loving snow macaques at the Jigokudani Monkey Park.
Enjoy a traditional skiers lunch at Shiga Kogen, the highest ski resort in the Nagano area. In the afternoon enjoy riding at our vast Shiga Kogen snowfield, reserved for our snowmobile tours only.
Each tour is fit to your riding experience and takes you into the beautiful Alpen back-country with the assistance of our knowledgeable staff! It's a full on day for outdoor lovers!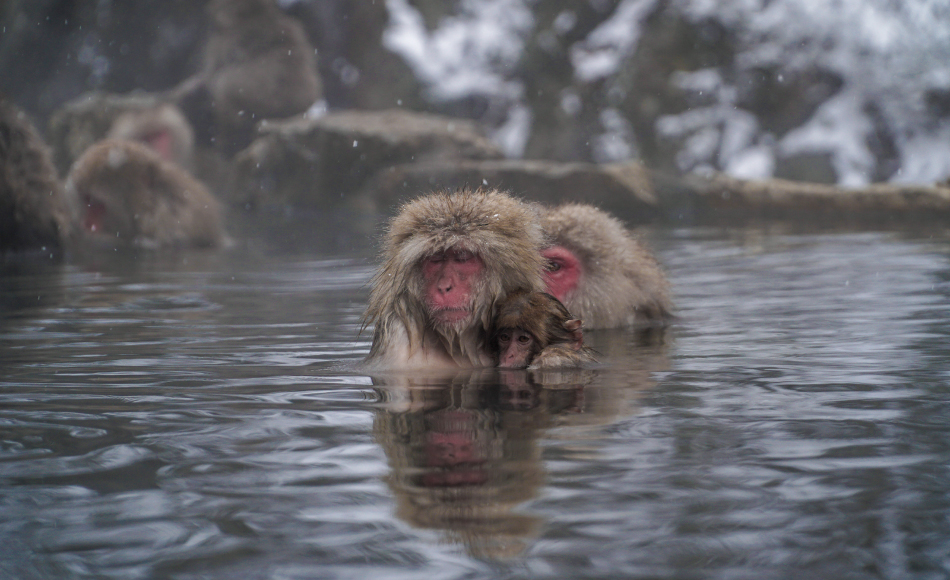 How to Book
Telephone: 0261 72 5061
Email: hakuba [at] lion-adventure.com
---
Course Schedule
Full Day Tour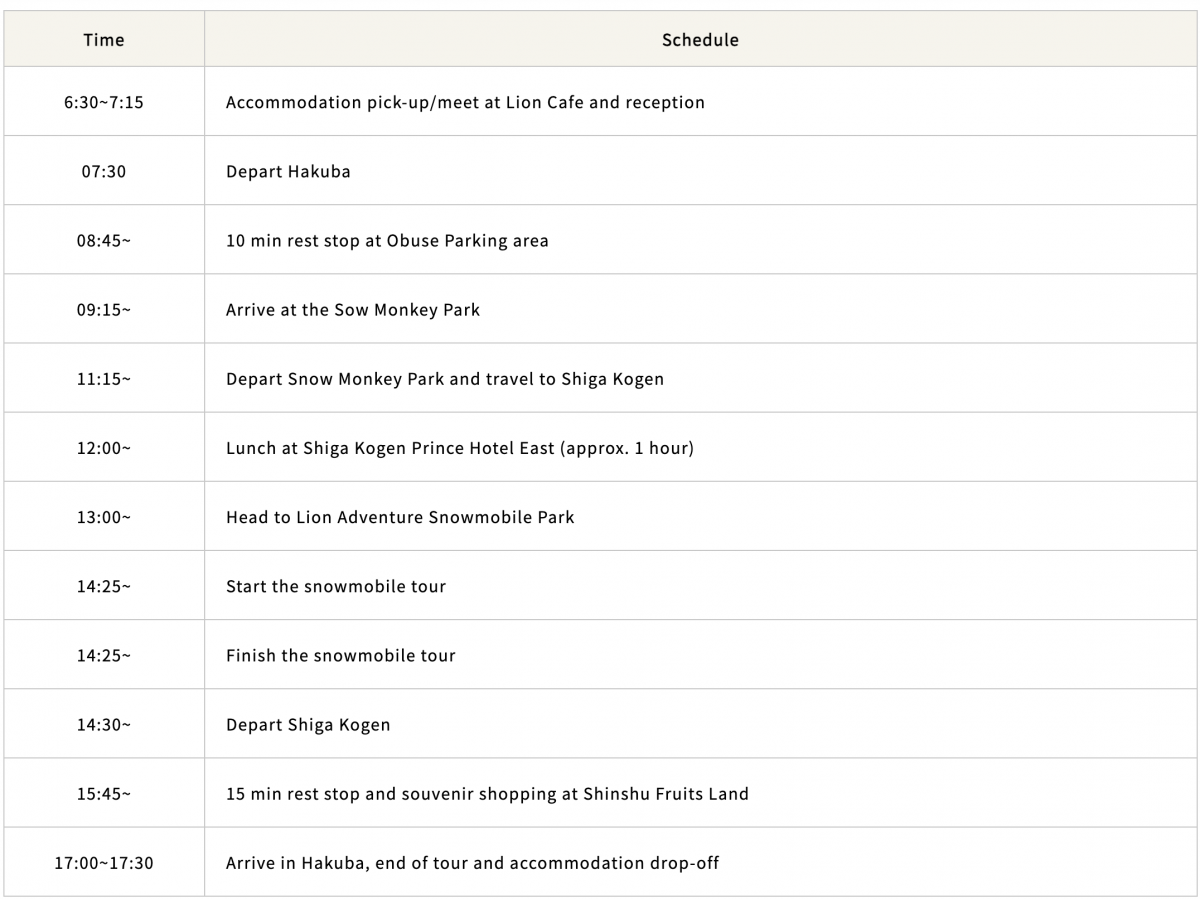 The tour will depart Hakuba at 7:30am. Please make sure you are ready for departure by then. Please be aware all other times are approximate, and depend on the speed and size of the group.
Accommodation pick-up time will be confirmed by 5:00pm the day before the tour date. Please ensure you have given us a way to contact you!
The lunch and snowmobile times may be subject to change without notice (changes may include splitting larger groups).
---
Activity data
Season
Every Monday and Friday from late December ~ late March (depending on snow conditions)
Other days may be arranged for large group reservations. Please contact us.
Meeting Place
6:50 ~ 7:15 Accommodation pick-up
7:30 Departure from Lion Cafe
17:00 ~ 17:30 Accommodation drop-off
Pick-up time will be confirmed by 5:00pm the day before the tour date.
Free accommodation pick-up available in the Hakuba Village area only. We cannot provide pick-up for Tsugaike, Cortina, Otari Village, Omachi, Kamishiro and some parts of Iwatake & Goryu (more than 20 mins drive from Lion Cafe). Please contact us to check availability if unsure.
If outside of our pick-up area, please meet at Lion Cafe (in Happo One village) – please arrive approx. 15-20 mins before the departure time.
Pricing
Single Ride (adult – 13 years old and over): ¥25,000
Tandem Ride (2 adults) total: ¥40,000 (2 people)
Tandem Ride (1 adult + 1 child (6 to 12 years old)) total: ¥38,000 (2 people)
Requirements
Relatively healthy/able-bodied people aged 6 years and up.
Children 6 to 12 years of age must be accompanied by an adult.
Children 12 years and younger cannot ride by themselves, they must ride tandem with an adult.
Children under the age of 6 years cannot attend the tour for insurance reasons. Babysitting services are also not available.
Gear
Snow Monkey Park: appropriate walking shoes that can get dirty – preferably waterproof and with good grip.
The path to the Snow Monkey park can get very slippery, icy and/or muddy. Ice spikes are available for rent at the gift shop near the entrance to the park.
Snowmobile: Full snow gear – snow jacket, snow pants, snow boots, snow gloves and snow goggles.
Shiga Kogen gets very cold (compared to Hakuba). It is important that you have warm clothes! Please consider wearing thermals, or changing into some at Shiga Kogen.
You may bring along a bag to store a change of clothes in. These can be left safely on the bus during the tour.
Please wear contact lenses or have your glasses well secured (string recommended) as we do not offer compensation for lost or damaged items.
Please also ensure that keys/mobile phones/wallets etc. are well secured in your pockets or put them in inside pockets. It is very difficult to find lost items in the snow, especially powdery snow! We also cannot backtrack to find lost items.
Other
Tours may be cancelled if there are any conditions that will affect the safe operation of the tour – including: bad snow conditions (lack of snow), blizzard or heavy snow, heavy fog, heavy rain etc.
Tours will still operate during bad winter seasons if there is still the minimum requirement of snow available.
Please keep in mind that we cannot control the weather conditions! If the snow conditions are not ideal, it may affect the course conditions (the course may be bumpy/icy/patchy etc.). Please do not expect pretty white, fluffy and pristine snow for every tour. We will still try to provide a safe and enjoyable tour despite the conditions.
The tour fee includes: tour guide, Jigokudani Monkey Park entrance fee, bus hire fee (with driver), snowmobile lesson fee + 2 guides, snowmobile rental, helmet rental, lunch.
Does not include drinks/snacks for the bus trip or souvenir shopping purchases.
You may bring along cameras/GoPros, but please do so at your own risk. We do not offer compensation for lost or damaged items.
Snow wear rental is available for an additional fee. Please let us know what you need at time of reservation or contact us for prices and sizing.
Reservations can be made up to 5:00pm the day before the scheduled tour date. Reservations made after 5:00pm and same-day reservations cannot be accepted.
---
How to Book
Telephone: 0261 72 5061
Email: hakuba [at] lion-adventure.com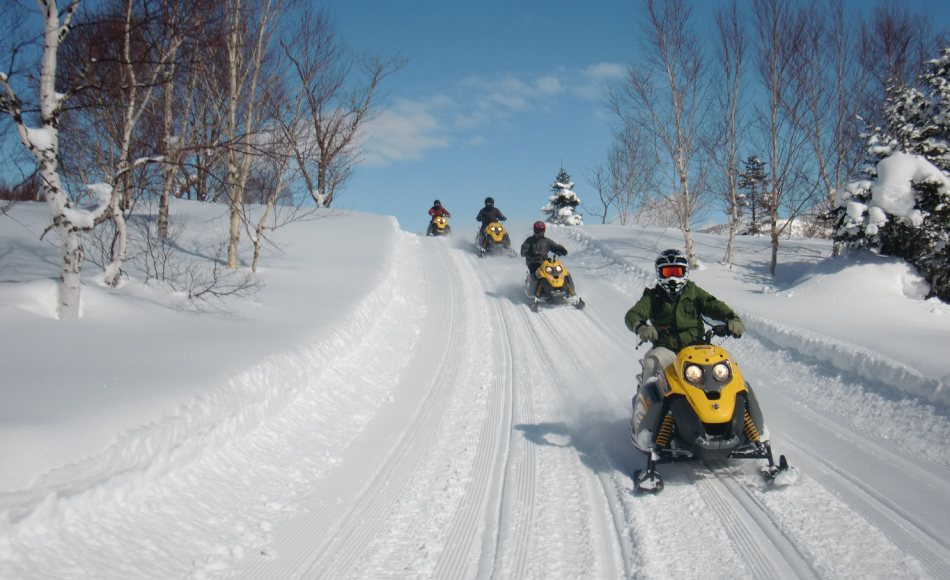 ---
All information is correct to the best of our knowledge at the time of writing. As details and operation of the service may be subject to change, please double check the details with the service provider.