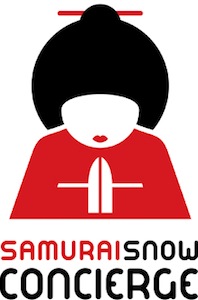 Experience untracked powder on your own private mountain, using the powder of a modified grooming machine to take you up the mountain.
Located in Northern Hokkaido, near the city of Asahikawa and Furano ski resort, Otoe used to be ski resort. The mountain is huge with endless powder and a mix of long treeless runs and gladed terrain suitable for Intermediate or Advanced off piste skiers and snowboarders. The guides will chose the terrain based on your ability level and experience. Lunch is taken in a local restaurant and of course there is an onsen for those of us that enjoy a good hot soak after a day in the powder.
This tour is available as either a Group Tour, joining other powder hounds or as a Private Tour where you hire out the CAT.
Mountain Area: Otoe located near to Asahikawa and Furano
FREE Pick up and Drop off: Furano
CAT Meeting location: Apple land "YAMA NO EKI" OTOE (Telephone 0164-25-1900 )
Nearest Town / Station: Fukagawa
Start Time: 8:30am
Duration: About 7.5 hours
Ability Level: Intermediate & Advanced
Age: 13 years old and over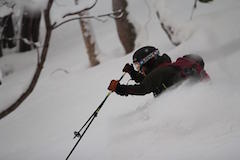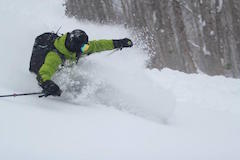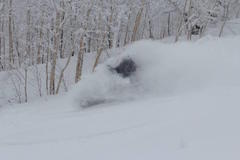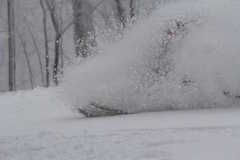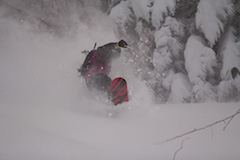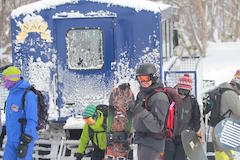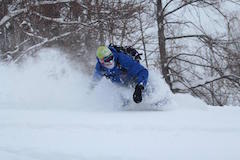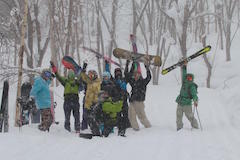 ---
2018 / 19 Prices

Group Tours need a minimum of 3x participants in total to operate the tour.
---
CAT Tour Schedule
07:00 to 07:20 - Pick up from Furano
If you are staying in Furano, take advantage of a free daily bus pick up.
08:30 / 09:00 - Check In at Apple Land Otoe
At our office, you'll complete our weaver form. You'll be fitted with all the backcountry equipment required (Backpack, Prove, Shovel and Beacon). The guides will make a safety briefing explaining the safety measures that are necessary, check on the weather report, and make sure all your doubts are answered. They will give you a basic explanation about how to use all the safety equipment, and show you the kind of terrain you are going to ride.
9:00 / 9:30 – Move to Otoe mountain
It takes around 20/30 min from Apple Land Otoe to get to first run. In a CAT, the guides will explain you more deeply what kind of runs you can find there, and what's today's weather report.
9:30 / 12:30 - Morning session
The first run is always a level checking run. After the guide has check on your skills, and depending on weather conditions, the guide will decide the runs that suit your level the most (open bowls, tree runs, old ski resort runs…).
12:30 / 13:30 – Lunch time and coffee break
You'll have a traditional Japanese lunch, a Bento Box, with rice, seafood, tempura, vegetables, eggs… at the comforts of Apple Land Otoe. Let us know in advance if you have any allergies or you need a vegetarian menu. After lunch, a quick coffee break will take place, just enough time to warm you up for the afternoon session.
13:30 / 15:30 – Afternoon Session
In the afternoon you'll be having 1/2 more runs. The last run will be before 15:00 as it gets dark around 16:00. The tour will ends at the bottom of OTOE POWDER CAT AREA.
16:00 / 16:30 – Onsen or relaxing time
You can relax at Onsen near Apple Land OTOE.
---
If you are ready to make a booking request, please fill out the booking request form below:

Booking Request Form
By filling out this form you confirm your agreement to the booking terms and conditions above.