Japan has unrivalled powder snow and amazing ski resorts and snow but it also affords you the chance to stopover on your way to the slopes and experience some of Japan's uniquely vibrant, rich and distinctive culture. Take some time and stop off in one of Japan's incredible cities on your way to the mountains.
---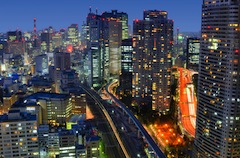 Tokyo is the main gateway city into Japan, handling a huge number of international flights and is the perfect place to stopover on your way to the slopes.
It is a city of contrast and surprises, an astounding melting pot of strikingly different districts, with a past reconstructed time after time and all things high tech and modern at its core: a playground for those with a sense of adventure.