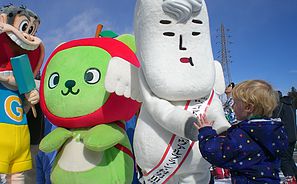 "Mommy Smile" offers flexible child care service catering to your family and children's specific needs and schedule.
---

We offer a flexible 'in-accommodation' childcare service catering to your children's specific needs and help YOU make the most of your holiday!
---

Location: Happo One – Kokusai Ski Lifts
For young children that may not be ready for the slopes just yet or those kids just wanting to have fun playing. Perfect for parents taking lessons with Evergreen Ski School.
---

Location: Goryu - Escal Plaza
Experienced and qualified child care staff will look after and entertain your children.
---

Kid's House Day Care
Location: Cortina - inside Green Plaza Hotel
Hours: (1) 9:00am to 12:00pm (2) 13:00 to 17:00
Ages: 3 -6 years old
Rate: 1,000 Yen per hour
Reservation required
Tel : (+81)-261-82-2236
---
All information is correct to the best of our knowledge at the time of writing. As details and operation of the service may be subject to change, please double check the details with the service provider.