Overview
Niseko is globally famous; Japan's flagship ski resort. As you might expect, it offers world class ski accommodation.
Choosing from ski in / ski out apartments, luxury penthouses, grand ski chalets, family holiday homes, alpine log cabins and bed & breakfast pensions is no easy task.
The abundance of self-catering accommodation options with fewer hotels, Ryokans and pensions sets Niseko apart from most other ski resorts in Japan.
Samurai Snow offers a choice of over 180 accommodations in the Niseko area for groups of all sizes and budget preferences. With this many options to choose from, it can be a little tricky knowing where to start.
We recommend first choosing which village in the Niseko area best matches your preferences and then deciding how close you would like to be to the ski lifts. All other things being equal, accommodations located further away from the ski lifts are priced lower than the ski in / ski out accommodations that everybody wants.
Alternatively, browse our Niseko Collections. These hand curated lists are based on years of feedback from past guests telling us what matters most to them when choosing their Niseko accommodation.
---
Search Niseko Accommodation
Search exclusively for Niseko accommodation for your preferred stay dates using our Accommodation Search Tool at the top of this page. Simply select 'Niseko – Any Village' from the 'Resort' dropdown list.
If you want to decide on your preferred village and then search, check out our village accommodation guide below.
---
Niseko Accommodation by Village
Niseko is comprised of four areas: Hanazono, Hirafu, Niseko Village and Annupuri, each with a ski area and village at the base. The ski areas are separate at the bottom with out-of-bounds areas not suitable for skiing but all join together at the top of the mountain. You can take the ski lifts to the top and ski down to the base of any of the four areas. Each village is a short drive from its neighbour and they are all connected via the Niseko United shuttle bus.
When deciding which village in the Niseko area is the best fit for you, consider the ski area that best matches your group's ability levels and preferences as well as the village where you would like to spend the most time.
Are ski schools and child care a must-have for you?
Are dining and nightlife high on your list of priorities?
Are you a lover of Japan's famous Onsen (hot springs)?
Are you a newcomer to skiing and snowboarding looking to take some lessons with an instructor?
What mix of piste runs best suits your group's ability level?
Are you a Powderhound looking for the best tree runs and access to the side-country gates or a freestyler looking to take on a terrain park?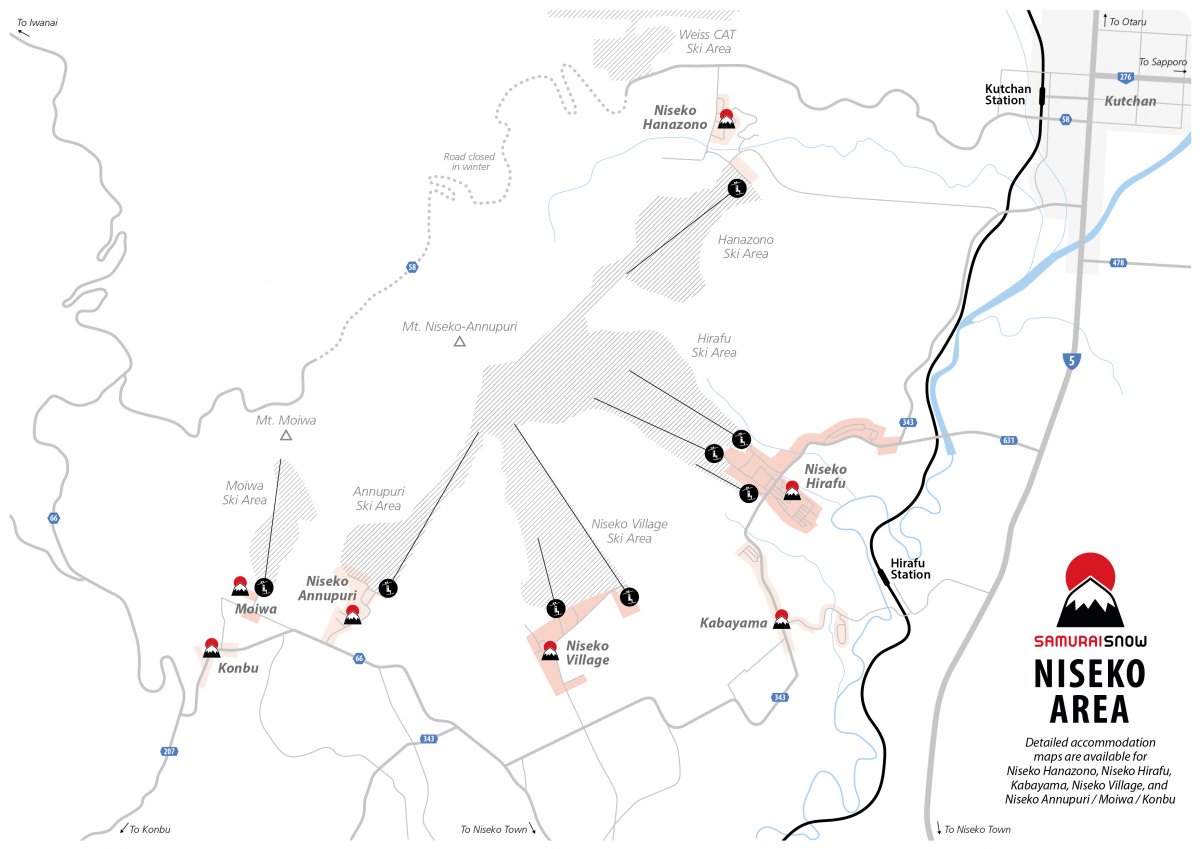 ---

Boasting the widest variety of accommodations in the Niseko area, Hirafu provides spacious chalets, convenient apartments and hotels and supremely luxurious accommodations.
World-class international ski town vibe
Authentic dining and lively nightlife
Largest night skiing area in Japan
Family-friendly facilities: child care, ski schools & beginner ski areas
---

The Kabayama area offers accommodation set amongst the trees and spaced out for privacy and enjoyment; a serene alternative just outside the bustling central Hirafu village.
Peaceful woodland area within walking distance of Hirafu

Spacious & affordable accommodation
Private shuttle services
Space for kids to play
---

Niseko Village features ski in / ski out resort hotels, each serviced by a different ski lift along with self-contained accommodation options located both slopeside and off-the-beaten-track.
Upmarket modern ski destination

Slopeside & forest accommodation
Winter activities – snowmobile, show shoe, snow rafting & sledding
Two of the best onsen (hot springs) in Niseko
---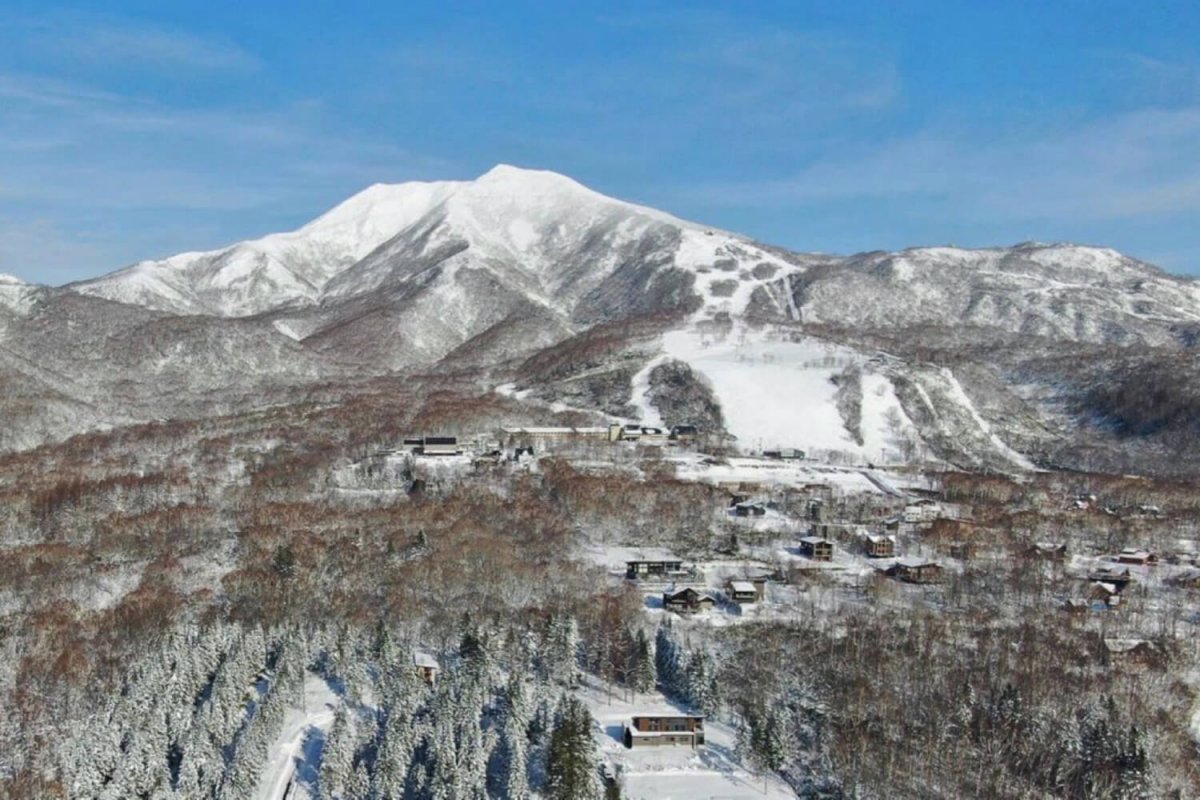 Popular with beginners and powder seekers alike, the Niseko Annupuri area is the least crowded place to stay and ski, offering a sleepy Japanese ski village experience.
Authentic sleepy Japanese village

Uncrowded village and ski resort
Great off piste skiing through the Annupuri gates
Best natural onsen (hot springs) in Niseko
---

With the addition of the Park Hyatt resort hotel, the Hanazono base area has been transformed into a luxury destination ski resort.
Ski in / ski out destination resort

Great off piste skiing through the Hanazono gates
Large ski school, beginner areas & quiet slopes
Upmarket dining at the Park Hyatt Hanazono
---
Plan Early
To secure the best Niseko accommodation for your group, start planning your trip as early as possible to choose from the widest range of available options and find the best match for your group's preferences.
Bookings open each year from March / April on a staggered basis for the upcoming winter. Generous discounts of between 10% and 40% are offered for early birds for some accommodations.
The New Year period from just after Christmas to the first few days of January is the most popular time of the winter season by far with the most popular accommodations booking out early.
---
Niseko Accommodation Collections
Our collections are hand curated lists, based on years of feedback from past guests telling us what matters most to them when choosing their Niseko accommodation.
Do you prefer a central location or somewhere tucked away in peaceful forest tranquillity?
How about the thought of relaxing in your own private Jacuzzi or onsen bath on the balcony or roof terrace?
Are you looking for somewhere special to makes memories and entertain your friends and family?
If you are looking for inspiration, you've come to the right place:
---
Niseko Accommodation by type
You can find every type of accommodation in Niseko to suit your tastes, budget preference and group size.
The huge range of Niseko accommodation options means that the visitor is truly spoilt for choice.
---
Niseko Accommodation by number of bedrooms
If you pretty much know your group size and the number of bedrooms you are going to need, you can browse our range accordingly.
If you have children in your group, bear in mind that a fair few Niseko chalets and apartments have a bedroom with one or two sets of bunk beds. So, you might need one less bedroom than you think. Some of these bunk beds are pretty large and comfy enough for adults.
---
You may also like: