A common cause of confusion when planning a trip to Niseko is in names of the ski areas and villages.
Niseko United is the name of the combined four ski areas of Hanazono, Hirafu, Niseko Village and Annupuri.
These ski areas are connected at the top of the mountain via the top ski lifts.
At the base of each ski area is a distinct village connected by a choice of bus and taxi services.
If you are unsure how to get around from village to village, please check out our Getting Around Niseko guide.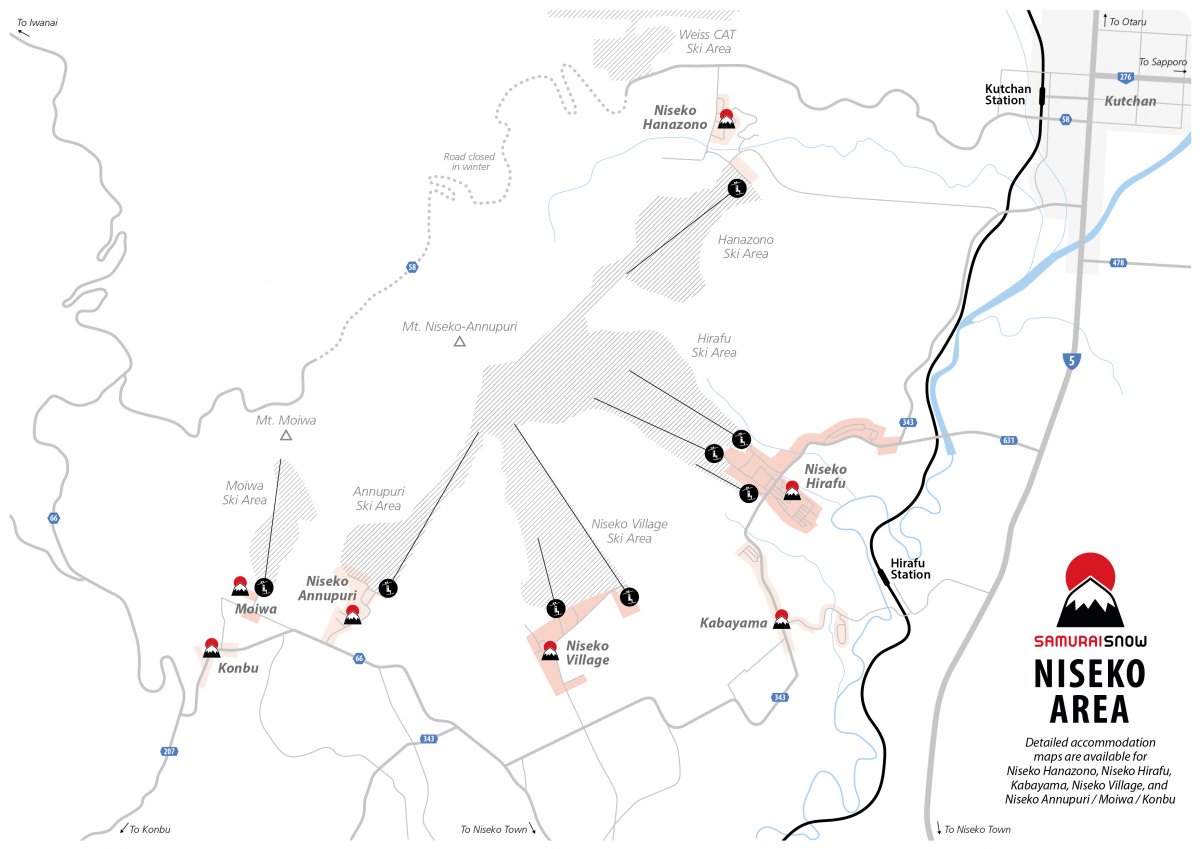 ---

Niseko Hirafu
Hirafu is the main tourist area located at the base of the Hirafu ski zone, where 90% of the people who visit 'Niseko' will stay. Hirafu has the widest variety of accommodation, ski schools, equipment hire, amenities, dining and nightlife. Hirafu is fairly compact with everything located within a relatively short walk of everything else.
For ease of reference, Hirafu is subdivided into a number of smaller areas. Hirafu is located on a slope from Upper Hirafu to Lower Hirafu. For the most part, accommodation facing down the hill have view of Mt Yohtei and facing up the hill have views of the ski hill.
Upper Hirafu
Mostly smaller apartments, hotel rooms and studios
Closest area to the lifts
Some ski in / ski out accommodation
Some restaurants and bars
Close to Convenience stores / retail stores / delis / bakeries
Middle Hirafu
Most of the restaurants and bars are located on one main street
Mix of houses, apartments, hotels, lodges
Close to the Ace Family Lift – access the rest of the mountain
Close to convenience stores / retail stores / delis / bakeries
Lower Hirafu
Mostly Houses and chalets offering good value
Quieter than Upper and Middle Hirafu but still relatively close to the lifts.
Restaurants and bars are dotted around the area
Connected to the lifts via the free shuttle bus service
Hirafu Izumikyo
Mostly residential area with lots of large luxury chalets
A few minutes walk to the Hirafu Gondola and a stone's throw from the amenities of Middle Hirafu
Close to Lawson's convenience store
East Hirafu
Spacious area with peace & quiet and great value accommodation
Further away from the lifts than other areas
The free shuttle bus access the lifts and Middle Hirafu as well as Hanazono
A few great restaurants and bakeries
---

Kabayama
The Kabayama area is located between Hirafu and Niseko Village.
There are a number of accommodation options here including a cluster of self-catering cabins and chalets as well as the Niseko Country Resort and The Orchards luxury developments.
These areas are ideal for families and groups who value space and a peaceful setting, whilst still being just a few minutes drive from the ski lifts of Hirafu or Niseko Village.
---

Niseko Village
Niseko Village has two ski in / ski out resort hotels - The Green Leaf Hotel and the Hilton Niseko Village as well as the newly contructed luxury Kasara Townhouses and Hinode Hills apartments.
New developments Koa Niseko and Snow Dog Niseko add to the accommodation mix.
Niseko Village is great for families and those wanting the facilities of a large hotel with everything under one roof rather than a more traditional ski village.
---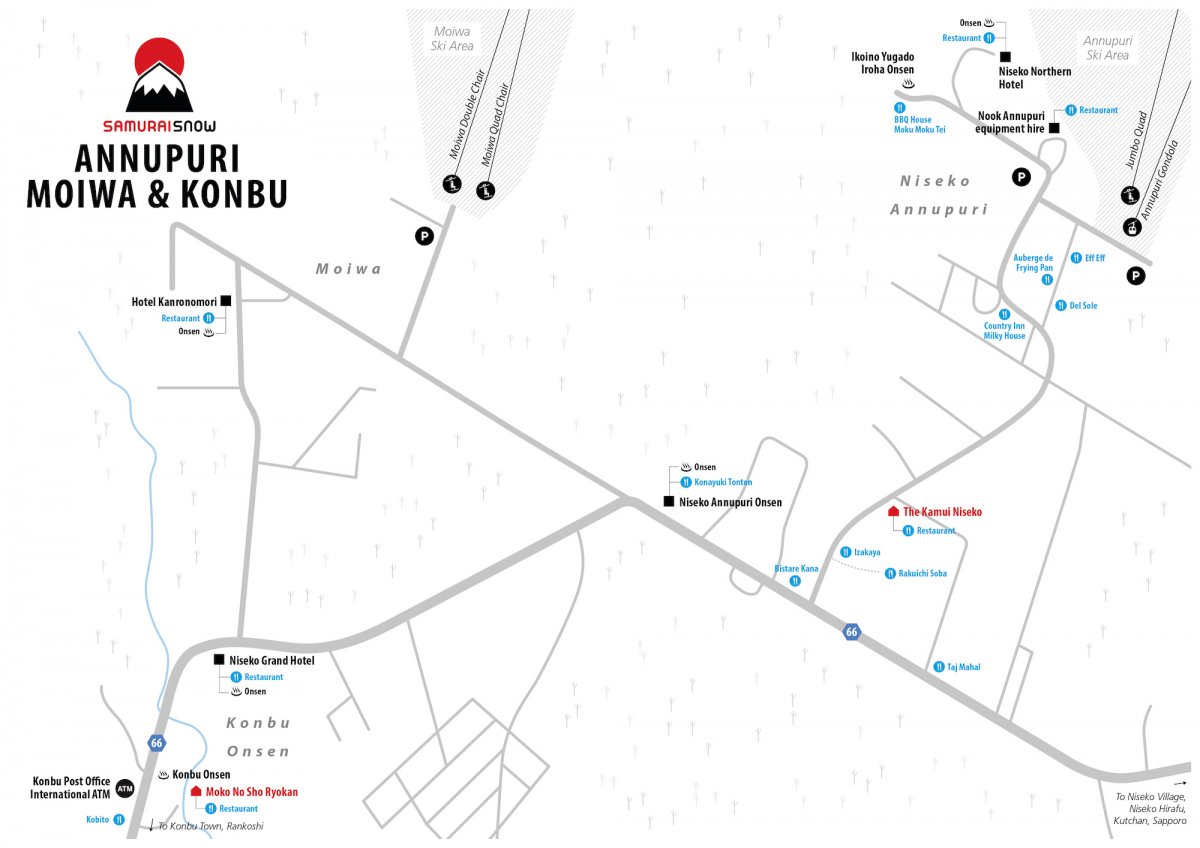 Annupuri
Popular with those seeking a quieter village and with powder seekers craving first tracks on the Annupuri side of the mountain. The village here is pretty with a few cabins, chalets and a couple of hotels. With just a few restaurants and bars, the Annupuri nightlife is pretty quiet.
---
Accommodation by number of bedrooms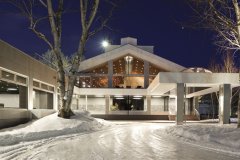 Ski In / Ski Out Resort Hotels and great value pensions.
Sleeps up to 4x people
---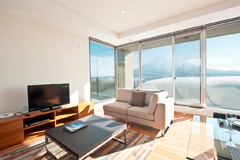 ---
---
---
---
---
---
---
---