The Niseko United Ski Area is comprised of the four connected ski areas of Hanazono, Hirafu, Niseko Village and Annupuri. It is the largest single ski resort area in Japan.
There is enough terrain to keep everyone happy from mellow piste runs, steeper pistes, tree runs, sidecountry off piste and full backcountry terrain.
---
Snow & Weather
Niseko enjoys a huge amount of some of the driest and most consistent powder snow in the world due to its geographical location. Low-pressure weather systems from Siberia hit the west coast of Hokkaido and churn, delivering deep powder snow day after day during peak season. Niseko delivers 14m to 19m of snow season after season.
Snowing is the default weather pattern in peak season, which means that there not too many sunny days. Sitting on a sun deck, beer in hand just does not happen here.
During the peak months, the temperature generally stays between -5 C and -15 C. With some of the bigger, windier Siberian storms, the temperature can, on occasion, rise to -20 C or even -25 C with the wind chill factor towards the top of the mountain but these days are less common.
---
Lifts
Niseko United Ski Area has around 30 lifts in total. Hirafu, Niseko Village and Annupuri each have their own Gondola, with Hirafu being the largest and fastest on the mountain. Hanazono has 3x fast quad lifts, with the bottom and top ones being hooded.
The top lifts are all single lifts with one chair and no safety bar. These lifts are run sufficiently slow so that not having a safety bar is not a big deal. There are no button lifts or T bar lifts in the entire resort, which is always good news!
Generally speaking, the lift quality is mixed with some faster and some slower lifts. When the winds pick up to 35 km/h and above, the top lifts and even some of the lifts in middling altitudes will close. For up to date information on lift operation, please check out the Niseko United website.
Niseko has the largest night skiing operation in Japan. In Hanazono and Annupuri, this is largely limited to beginner terrain but in Hirafu, the Gondola and the Ace Quad lift operate at night, opening up some fantastic off piste terrain until 8:30pm from mid December to mid March.
---
Terrain
The Niseko United Ski Area is comprised of the four connected ski areas of Hanazono, Hirafu, Niseko Village and Annupuri. It is the largest single ski resort area in Japan.
With continuous vertical of 1,000m and a massive selection of on and off piste terrain, there is easily enough terrain to keep exploring for a 2 week holiday.
Like most resorts in Japan, the terrain is not as steep as you will find in Europe or North America but the draw card is the volume and consistency of snowfall. There is enough terrain to keep everyone happy from beginners looking for some mellow train to start out, through to the sidecountry terrain that is steep enough with the deep snow to keep advanced and expert off piste riders happy if not scared.
---
On Piste
Beginners - Each ski area has good beginner green piste runs at the bottom, accessible by pair or quad chairlifts run at slow speed (no intimidating button lifts or T bar lifts in sight!). For those staying in Hirafu, the Family Run is the most popular learning spot but can get a little crowded as a result, so heading up one of the other three pair lifts can be a better option at times. Niseko Village has one top to bottom green run and the bottom half of the Annupuri ski area is mostly beginner terrain.
As the connecting terrain at the top of the mountain is relatively steep, Beginners will generally be restricted to whichever ski area they start at unless they catch the Niseko United Shuttle Bus to another of the four ski areas.
Intermediates – Ideally suited towards intermediates, Niseko's red piste runs are long, plentiful and generally speaking head straight down the fall line. On heavy snow days, Intermediates will also get to practise their powder technique as the pistes can get covered in knee deep fresh un-groomed snow.
Advanced & Experts – There is nothing super steep in the way of piste runs. The Super run in Hirafu is probably the steepest groomed run on the mountain as a number of the steeper runs are left un-groomed such as Superstition in Niseko Village and Miharashi & Konayuki in Hirafu as well as the runs at the top of the mountain
---
Terrain Park
The largest terrain park is located in the Hanazono ski area. Features vary year to year but usually include a variety of smaller jumps for beginners & intermediates, larger jumps, rails, boxes, half pipe and even a bag jump.
In addition, Hirafu has a smaller terrain park located at the bottom of the mountain during peak season and at the top during spring with a row or 3 jumps to hit.
---
Off Piste / Sidecountry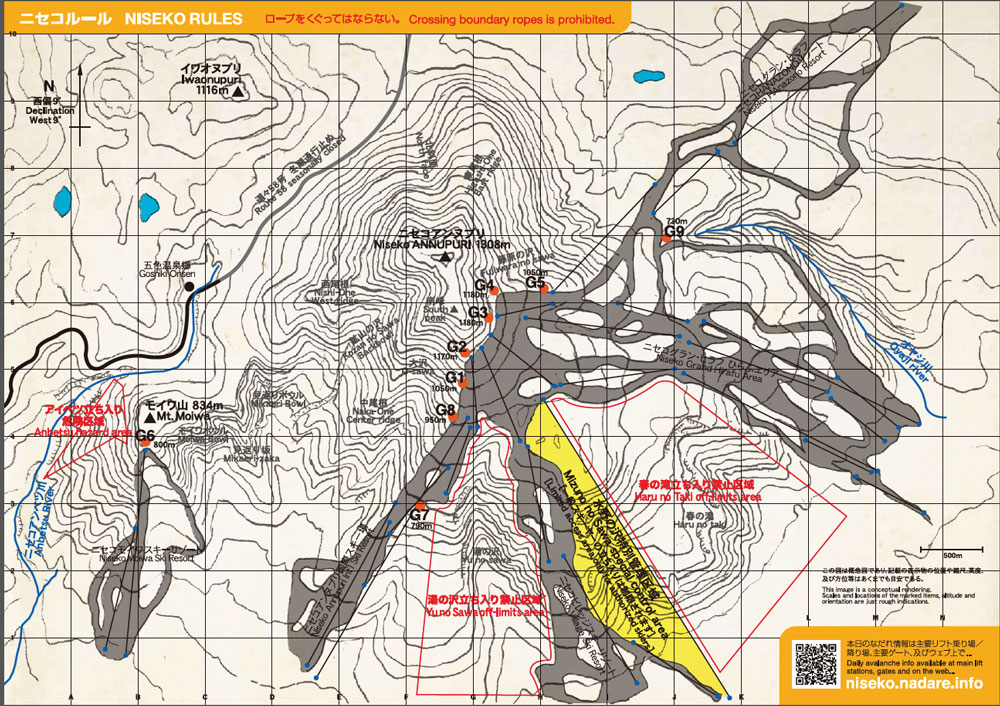 Unless roped off, you are permitted to ski all in-bounds tree areas. There are two strictly out of bounds areas – the first between Hirafu and Niseko Village and the second between Niseko Village and Annupuri.
In addition to the In Bounds off piste terrain, Niseko United operates a gate system to access the amazing sidecountry terrain. These gates are operated at the discretion of ski patrol, according to daily avalanche risk assessment. You can check the opening of the gates and the general avalanche risk online via daily avalanche reports (published at approximately 7:30am daily) on the Niseko Nadare website. If the gates are closed, you must not access this terrain.
For more information on each gate, check out the HPG Gate Guide. Once outside of the gates, you are very much outside of the resort boundary. The ski patrol do not sweep these areas and do not do provide a rescue service. Please ensure that you proper backcountry equipment and that you know how to use it.
Gates 2 & 3 allow you to access the peak of the mountain from the Hanazono or Annupuri ski areas via a 20-minute hike that is usually well boot packed. From the peak of the mountain you can access any terrain you like, although we strongly recommend going with a guide at least for the first day, otherwise getting lost and not ending back at the Hanazono or Annupuri lifts, especially in less than perfect weather, is a strong possibility. We can book guiding tours with a professional guide for you.
Mizuno no sawa is an avalanche controlled area at the edge of the Niseko Village ski area. Ski Patrol run an education programme, which you are required to attend the first time before accessing this area. Limited numbers are allowed per day and the terrain is some of the steepest terrain on the mountain.
Niseko Moiwa is a small resort with just two lifts and 470m of vertical but is a great option for those seeking off piste terrain. With a mixture of in bounds tree lined bowls and a gate accessing three additional sidecountry bowls, all of which link back to the chairlifts at the bottom, Moiwa is excellent for powder lovers. Moiwa is not included in the Niseko All Mountain pass but is definitely worth a day visit. You can access Moiwa via a connecting train branching off from the Junior green run in the Annupuri ski area.
---
Backcountry
In addition to the lift-served sidecountry terrain, there are a number of options for those wanting to strap on the touring gear and earn their turns. Ideal for those clear days, where is hasn't snowed for a day or two and the avalanche risk is low. We can book Backcountry Guided Tours for any of the following mountains:
Mt Yohtei – On a clear day, you can see Mt Yohtei from the Niseko United ski area when facing down the mountain. Hokkaido's answer to Mt Fuji, this dormant volcano is the king of one day hikes in the area. On a clear day with no wind, you can hike all the way up to very top, ski into the crater. The hike up takes between 4 and 5 hours and you must have a suitable level of fitness to do so.
Iwanupuri – Located on the opposite side of the Niseko mountain from Mt Yohtei is Iwanupuri. This is a 1-2 hours hike up the ridge line for those with less experience of ski touring wanting a half day option.
Chisenupuri – An old ski resort that no longer operates, this is a great option for those looking to get away from the crowds and involves a 3 hour hike to the top.
Shiribetsu dake – The steepest mountain in West Hokkaido, the pitch of this mountain makes is a higher risk of avalanche than any of the ski resorts in the area and should only ever be undertaken with a guide on the lowest of avalanche risk days. On such days a Heli Ski operation can take you up to top for those wanting to get more runs in!
---