What better way to experience the famous powder and terrain of the Hakuba Valley, than with an expert local guide? We offer a full range of tours from being your shown your way around the ski fields to full-day hikes into the backcountry wilderness and everything in between.
Tours begin as soon as the snowpack is established - usually in late December - and runs through until mid-April.
The Evergreen Guiding Office is located in Hakuba Wadano.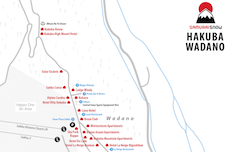 ---

Either within or outside of the ski resort boundary, where little to no hiking is required, where the terrain is accessible via the chairlifts of the ski resort.
If you are looking to develop and improve your off piste under the instruction of an off-piste instructor, the Powder Clinic offered by Evergreen Ski School, would be a better option for you.
---

Outside of the ski resort boundary. All Backcountry Tours are skin / snowshoe accessed, meaning you will be hiking for at least 2.5 hours but more likely 3 to 4 hours over the course of the day. By Joining one of these tours, you agree you are fit enough to do so.
---