Located towards the Northern end of the Hakuba Valley between Iwatake and Norikura ski areas, Tsugaike has a good variety of beginner and intermediate piste runs, a well maintained terrain park and some backcountry terrain suitable for those less experienced in backcountry skiing and snowboarding.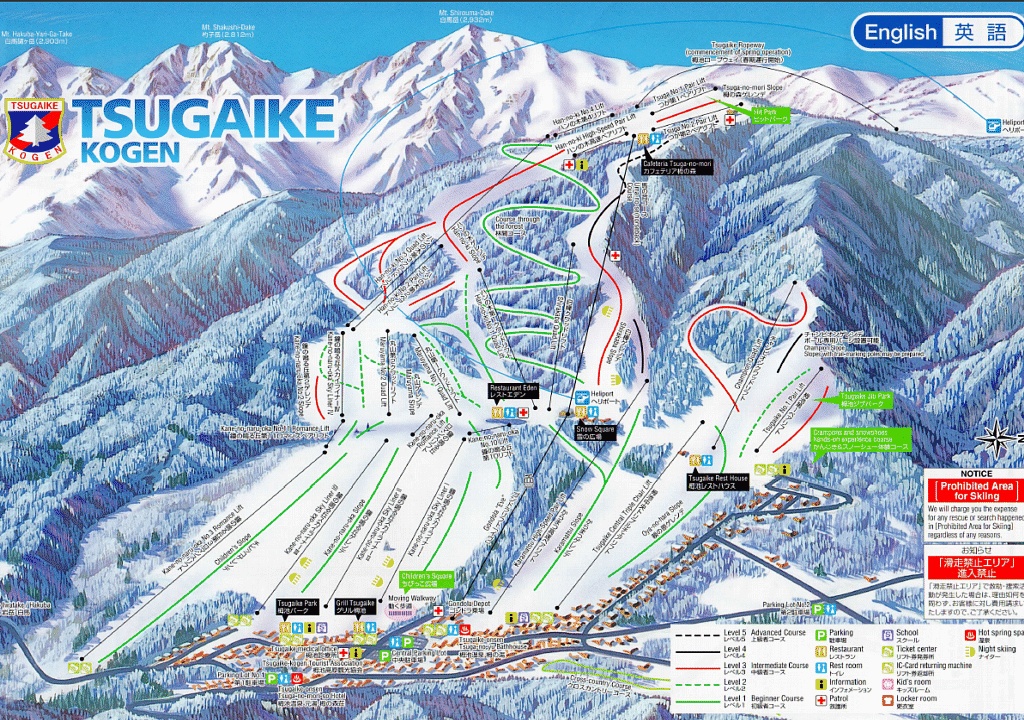 ---
Snow
Like the other resorts in the Hakuba Valley, Tsugaike enjoys ample snowfall – an average of 11m of snow per winter season. The majority of the slopes are East facing
---
Lifts
The Gondola is the fastest way to access the upper mountain via an optional drop off at mid station if you want to ski the lower half of the mountain. The other 21 lifts are a variety of high speed Pair, Triple and Quad lifts. Overall, the lift infrastructure is one of the best in the Hakuba Valley.
Night Skiing
Nights skiing operates on a section of the lower mountain close to the giant bell as well as the Shirakaba and Karamatsu runs. So there is some terrain for beginners and intermediates to enjoy after dark.
---
Terrain
Tsugaike is reasonably sized with approximately 900 vertical metres (from 1,700m to 800m) from top to bottom.
The ski area is naturally split into a lower and upper half with the lower half offering a shallow pitch and the upper half a steeper pitch.
---
On Piste
The on piste terrain at Tsugaike is weighted towards beginners and lower intermediates with plenty of green and red runs but little to keep advanced skiers challenged.
The official trail stats are 40% beginner, 40% intermediate and 20% advanced.
Beginners
With its huge variety of green runs, Tsugaike is the perfect place to learn how to ski.
The super wide lower half of the mountain is 300m wide and offers plenty of space to practise your turns without worrying about crashing into other people or any trees. There is a moving walkway for kids taking their first turns and the beginner slopes are flat enough parents can walk up them and kids can even sled down. There are a couple of additional green runs higher up the mountain, with the forest course, it is also possible for beginners to ski top to bottom.
The only caveat is that the bottom green runs are so flat that is may frustrate beginner snowboarders either stopping or catching an edge at such slow speeds.
Whilst, there is no English speaking ski school based in Tsugaike, the Evergreen International Ski School (based in Happo and Iwatake) offer full day private 5 or 6 hour ski and snowboard lessons at Tsugaike.
Intermediates
The upper half of the mountain has a few red runs to keep intermediate skiers and boarders happy for a couple of days.
Advanced & Experts
Whilst 20% of the terrain is technically classed as advanced terrain, there is not really much here to get advanced or expert skiers and snowboarders excited. There are a couple of shortish advanced courses but these are really more suited to advanced intermediates.
Those seeking leg burning steep blacks, racing terrain or moguls should head over to the Happo One or Hakuba 47 ski areas.
Terrain Park
The modest but well maintained "Hit Park" can be found at the top of the mountain and is serviced by two Pair Lifts, which means that are never really any queues to speak of. Whilst there is no halfpipe, there are some small to medium sized kickers and some rails and boxes.
Some winters the Hit Park doesn't get into full swing until a little later in the season when there are more clear, sunny days. Overall this park is great for intermediate freestyle skiers and riders wanting to practise in a relaxed non-intimidating environment.
---
Off Piste Sidecountry
Tsugiake's best off piste tree runs can be accessed from the Tsuga No.2 Pair Lift at the top of the resort. Head for the tree skiing skiers left of the Shirakaba piste, this terrain is North facing, always in shade and so the snow stays in excellent condition.
The official ski patrol policy is that skiing the trees off the sides of the pistes is not allowed. However, in reality the ski patrol appear to be very relaxed about enforcing this. Technically you could have your lift pass confiscated for skiing in the trees, so be discrete and respectful.
---
Backcountry
Unlike skiing in bounds off piste terrain, true backcountry skiing is permitted; there is even a designated area to practise with your snowshoes and touring equipment for those less experienced.
The backcountry terrain itself is excellent and is best accessed in the spring time when the Tsugaike Ropeway opens. This cable car takes skiers from the bottom of the Tsuga No.1 lift into heart of the backcountry terrain – the Tsugaike Highlands or "Kogen" in Japanese.
Stick to the North facing terrain for optimal snow conditions, check the avalanche assessment report online and book a local guide.
Private Guiding availability is in short supply, especially during peak season and should be booked a long time in advance. For more information on booking guiding with Evergreen Outdoor Centre, please click here.
There is one zone that is off limits due to a high risk of avalanche but this is signposted and this prohibition should be respected.
Prior to the opening of the Tsugaike Ropeway, the first bowl, above the Champion slope can be accessed but this is primarily South facing terrain and the snow can get a little sun baked and sticky.
---
Access
Tsugaike village is located at the base of the mountain and is much more popular with Japanese than non-Japanese tourists and English is not as widely spoken as elsewhere in the Valley.
Tsugaike maintains its authenticity and has a number of Japanese hotels, restaurants and bars but is more suitable to more adventurous non-Japanese speakers. Tsugaike can be easily reached for a day trip from Echoland, Happo, Wadano via the frequent shuttle bus services. There is also a separate bus service between Cortina and Tsugaike.
Otari is the nearest town and Hakuba Oike Station is the nearest train station.
---
---
All information is correct to the best of our knowledge at the time of writing.