Mt. Niseko Annupuri offers 360 degrees of vast, open fields of perfect powder, tree runs, bowls, chutes and natural half pipes that continue on for kilometers. The four Niseko resorts offer access to the south east laying 180 degrees of this terrain via the Niseko United lift system, the remaining 180 degrees is accessible via the 9 gates that allow skiers and snowboarders into the back country areas of Niseko.
Established by the Niseko Annupuri Avalanche Prevention Committee, the Niseko Mountain Resort Safety Committee, the Niseko Free Passport Committee and the Hokkaido Shiribeshi Alpine Accident Prevention Committee, the Niseko Rules are the area's official regulations created for the safety and freedom of every skier and snowboarder riding inside or outside the ski resort boundaries.
Please be aware that whilst the ski patrol assesses the avalanche danger each morning, and will open or close the gates accordingly, once outside the patrolled area you take responsibility for your own safety, we strongly recommend that you read the daily avalanche reports that are on display at gate entrances.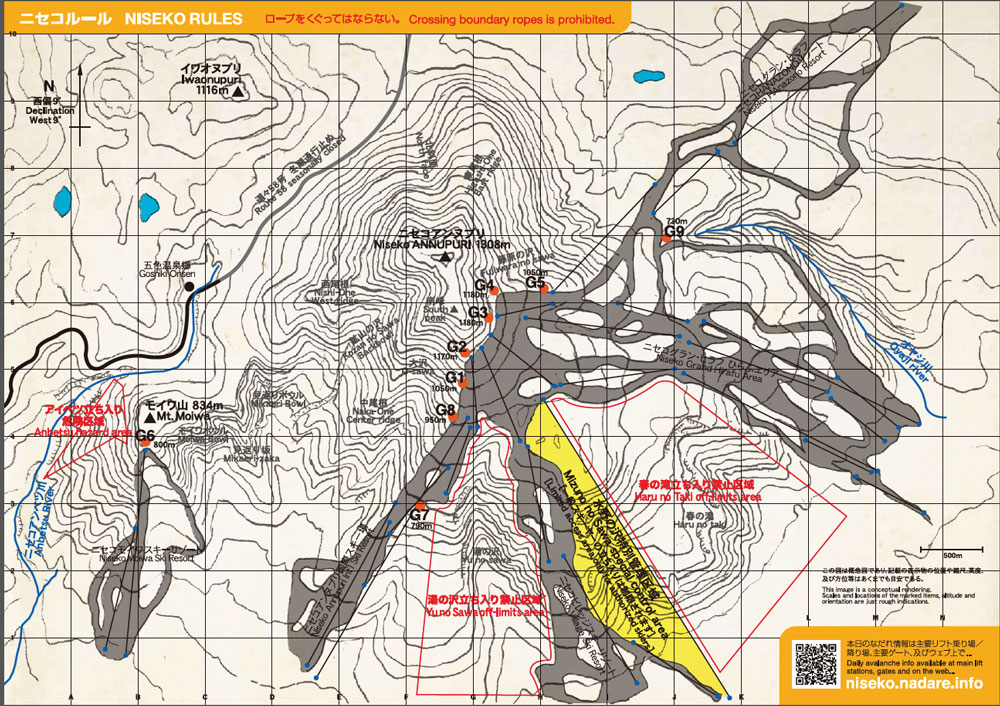 ---
Gate 1 - L-Ji gate. Altitude 1050m.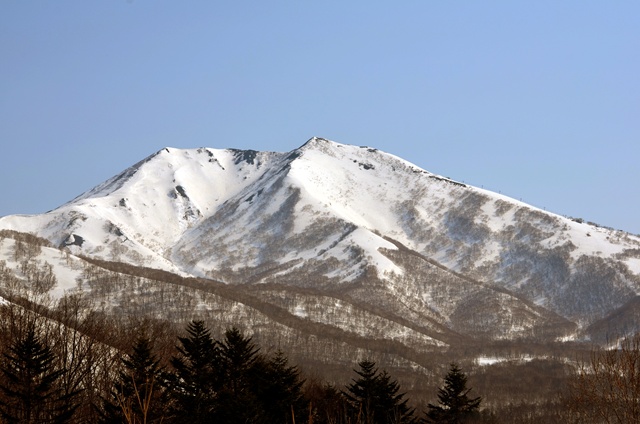 The first ever gate to be installed at Niseko. Accessed from the Jumbo #4 lift at Annupuri Resort on the skier's right below the top of the lift. An open field of powder will greet you if you are lucky enough to get this untouched, generally this can be tracked out very quickly. Just about any line will lead you into the Oo-sawa valley, so there is no real risk of getting lost here, but do try to avoid riding the bottom; stay higher than the lower tree line especially in poor visibility and when snow stability is low.
HPG have the local knowledge to find untracked lines in this area, allow our guides to show you how to best take advantage of this terrain to find long, uninterrupted powder turns.
---
Gate 2 - Annupuri peak gate. Altitude 1170m.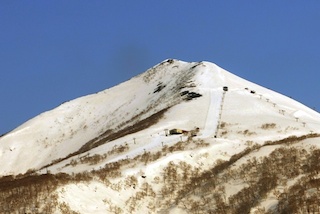 Located at the top of the Annupuri Jumbo #4 lift.
This gate also gives access to the open bowl of Oo-sawa, similar to gate 1 this area can be tracked quickly. The run out is a natural half pipe, which is great fun for snowboarders. It is possible to reach the peak of Mt Annupuri from this gate, but we generally recommend against this route as it requires a 30min + hike on often icy, unstable terrain via the South Peak.
HPG's first choice for snowboarding guests. Knowing where and how the snow accumulates in different wind directions is critical in finding the best snow conditions here. No hiking is required in this area.
---
Gate 3 - Hirafu peak gate. Altitude 1180m.
Niseko's most famous gate, above the top of the highest lift point in Niseko, the single seated King Lift # 4. Both the lift and gate can be extremely crowded on a powder morning, and a line from top to bottom can often form as people make the 20 min climb to the peak. Whilst no kind of mountaineering equipment is required in Niseko, avalanche / back country gear is highly recommended if you are planning to leave the resort boundaries. From the summit, you have a multitude of lines to choose from, but don't be fooled into following some else's tracks as they don't all lead you back to the resort. Dropping the North Face on a board will require a long traverse out, and please be aware the Back bowl and West Face can be avalanche prone.
HPG guides are very much in their element from the peak and will pick a line best suited for the conditions and level of your group. Having a tail guide allows HPG to include a non-stop vertical drop of 400m of some of the most exhilarating powder you will ever experience.
---
Gate 4 - Fujiwara gate. Altitude 1180m.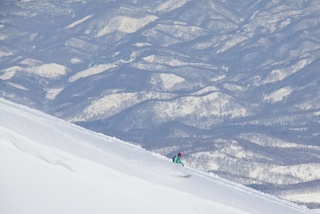 Opens 60 minutes after gate 3. This gate offers access to the gulleys of Fujiwara-no-sawa, Higashi-one and the lower part of the East face. Please use caution when traversing across to these areas, and always be mindful of changeable mountain weather. Do not enter Fujiwara-no-sawa when the gate is closed.
HPG enter this area when gate 3 is closed and/or conditions are not favorable higher up on the peak. This area offers steep gulleys and wide open tree runs over ridges, it is best suited to intermediate to advanced skiers/ riders.
---
Gate 5 - HANAZONO gate. Altitude 1050m.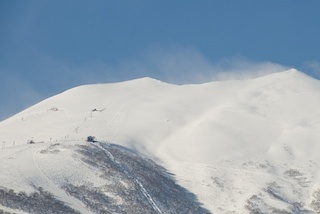 Opens at 9:00am. Offers access to the lower part of Fujiwara-no-sawa. This is a great gate to get a couple of fresh lines first thing of a powder morning, as the run out leads you straight back to the base of HANAZONO #3.
Extremely unstable cornices can develop above the traverse line to Higashi-one, we encourage you to make consistently cautious decisions and to avoid avalanche prone areas.
Join a HPG First Tracks tour and after a few runs of Strawberry or Blueberry fields we'll get you here for first tracks before the crowds arrive.
---
Gate 6 - Moiwa Peak gate. Altitude 800m.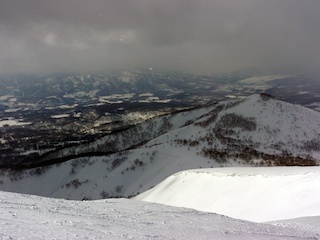 Access gate to Mikaeri-no-sawa, Annupuri west-face and Goshiki onsen area. Dangerous cliffs and a long hike back to be expected in the Western Anbetsu area.
---
Gate 7 - Ee-sawa gate. Altitude 790m.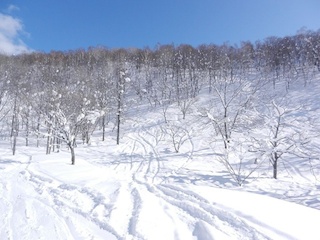 Located mid-way up the Annupuri Resort, this area, with its gentle gradient and natural half pipe features is a snowboarders' paradise. The gate entrance can be difficult to find the first time, do not under any circumstances duck the ropes to enter. Riding down to the Yu-no-sawa off-limits area is strictly prohibited.
A slightly less adventurous part of the mountain, this is a great area for families and snowboarder groups of intermediate level.
---
Gate 8 - Hachi-ban gate. Altitude 950m.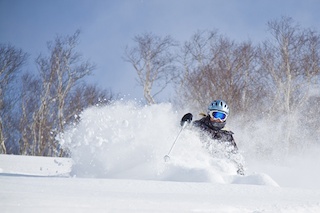 Newly installed in 2012, this gate allows access to the lower Oo-sawa area. Ride the foreground trees and do not traverse across to the opposite cornice slopes. This gate comes in handy when Jumbo #4 is closed.
HPG often use this gate when upper mountain conditions and/or visibility are poor. There can be un-ridden pockets of powder in this area even on a crowded day. Allow our guides to show you how to best take advantage of this terrain.
---
Gate 9 - Waterfall gate Altitude 730m.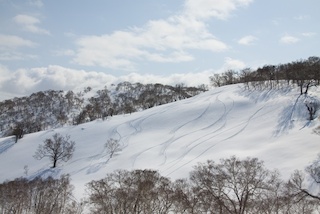 Recognized as an official gate as of 2012. This gate is located between HANAZONO and Hirafu, and due to the fact it cannot be easily lapped it is possibly one of the least tracked areas in Niseko.
As the name suggests, there is a waterfall at the base of the gulley, so it is important that you make it across the river bed and traverse up to the Holiday run before the waterfall.
The waterfall area offers a steep, short line if returning to Hirafu, keep running along the ridge line for a gentle line back to the Silver Dream at HANAZONO, perfect for backcountry beginners.